Media & Publications
PHD/MASTER OF PSYCHOLOGY STUDENT TIFFANY DE SOUSA MACHADO TALKS MORE ABOUT HER WESTPAC FUTURE LEADERS AWARD
Tiffany wishes to share with the Psychology community further details about her research, and how she will be using the scholarship to contribute to community issues regarding post-natal depression.
Tiffany writes:
Women are bearing the brunt of a diagnosis that our culture needs to be more responsible for.
Whilst not ignoring the biological changes which occur postpartum, I believe there needs to be a stronger focus on the cultural and social determinants.
My goal is to reduce postnatal depression (PND) through increasing social connections and informing policy. I believe that by drawing on the strengths of other women this can be achieved.
16% of Australian women reportedly have PND. That's about 1 in 7 mothers. This number is probably well understated as many women do not seek professional help, instead feeling shame and embarrassment over their perceived inability to cope and feel happiness over their new child.
PND costs Australia approximately 300 million a year, with depression costing in excess of 12 billion. These two figures are related in so much as PND has the ability to affect all Australians – whilst directly influencing the mother and the other parent, siblings too can be affected. Infant development and bonding between parent and child are also at risk. This carries over into the community through workplace interactions, schooling, and social groups – the community is thus affected if the mother's needs during postpartum are not effectively addressed.
I aim to design a program which connects new mothers with older women on a personal level, drawing from their strengths and experience.
WESTPAC WIRE: Op Ed for PANDA Week
RUBY CONNECTION: 'Postnatal Distress: Westpac Scholar Explores New Themes'
MAMAMIA: 'Life After PND'
LUMEN: 'Challenging Cultural Norms'
Challenging Cultural Norms
THE ADVERTISER: 'A South Australian Future Leader scholarship recipient has used her experience of post-natal depression to educate others'
RUBY CONNECTION: 'Future Leader tackles PND in the community'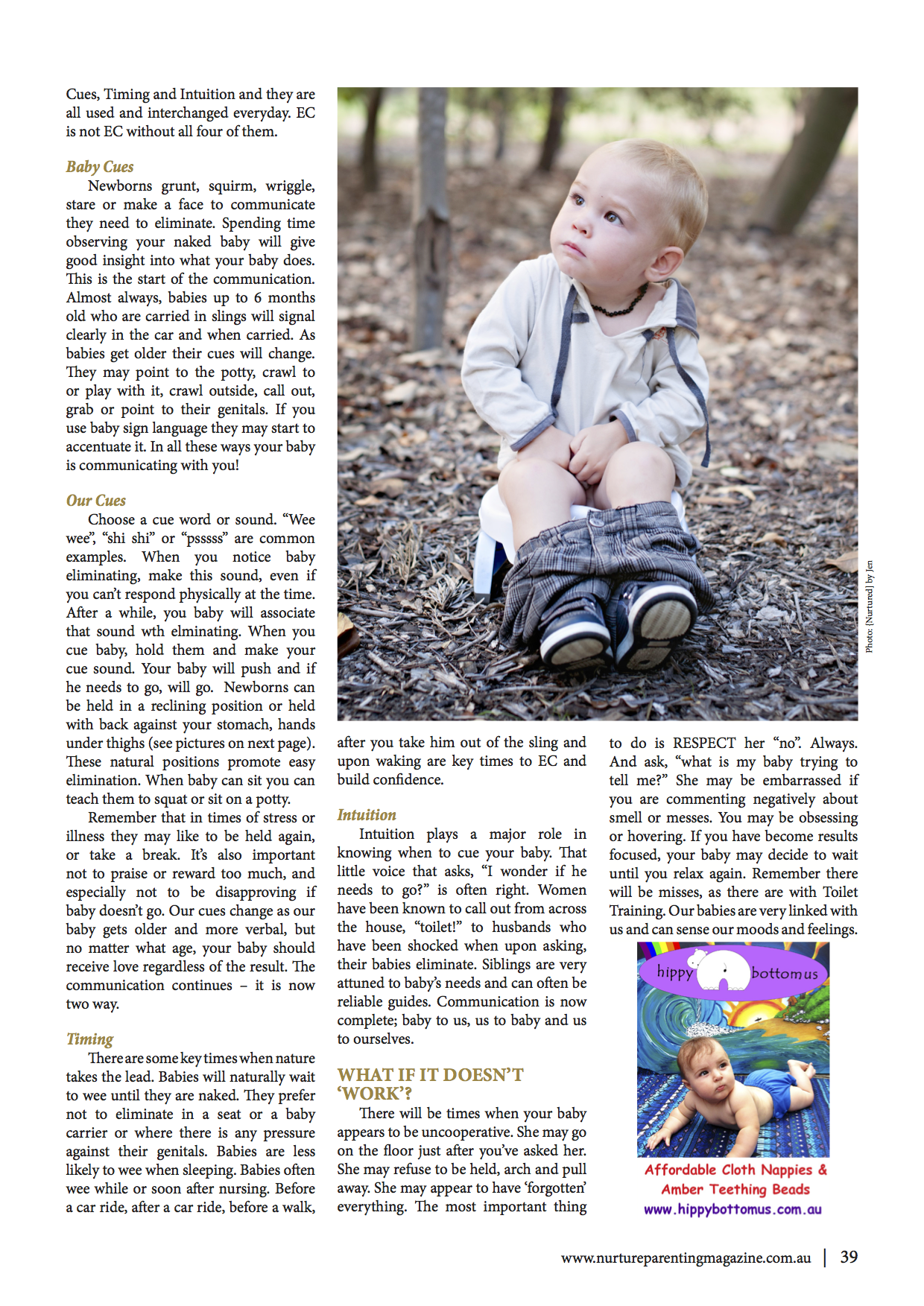 NURTURE Parenting Magazine
Elimination Communication
NURTURE PARENTING MAGAZINE: 'Time to Get Nakey - Elimination Communication.'
"I am committed to the possibility of empowerment for women,
for families and for each of us who
push the boundaries of acceptable."
- Tiffany de Sousa Machado